.
FluoroScan Mini-C Arms from Hologic
Why a Mini-C Arm?
Orthopedic surgeons have told us they want superb image quality packaged into an intuitive easy-to-use system. The Fluoroscan mini C-arms from Hologic deliver exactly that, answering the needs of orthopedic surgeons for precision and versatility in extremity surgery.
Smart Technology
You don't need to flip a switch or push a button to compensate for metal within the surgical field. Metal-Trac is always working to ensure that pins, screws, or surgical instruments don't degrade the image to provide superb detail.
Adaptive Motion Control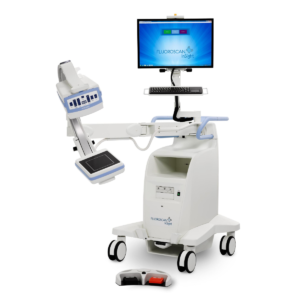 The Fluoroscan mini C-arms automatically adjust to movement during a procedure, producing a crystal clear image, eliminating blurriness or distortion and reducing image noise.
Automatic Dose Control
The software automatically adjusts the dosage for the best image quality with minimum exposure for large and small extremities alike.
Image Management
The Hologic mini C-arms not only incorporate superb imaging technology, but ease of connectivity as well. Windows operating system will fit perfectly into your secure network environment.
Store digital images locally on the hard drive, or export images into jpeg or tiff file formats to a USB device, CD/DVD media or PACS.
Images may also be printed to either a small or large format printer.